PLOTTING & SUPPLY
Kansas City's Plotter & Services
Kansas City Blueprints, Posters, Banners, Plotters & Service
Whether you need a new plotter, plotter repairs, supplies or prints, we are the "Easy Button" for all things plotting and wide format printing. Think of us as a team member or trusted partner – delegate your plotting needs to us!
Architectural Blueprint is now part of Pinnacle Plotting
We offer the same great service and people, with an expanded staff and capabilities. Send us your jobs that are too big for your in-house plotter. Same-day service is our standard.
You have a choice – You can buy a wide format printer anywhere online and you get it delivered to your dock in a really big box on a pallet. You get to figure out how to assemble it from those awesome overseas instructions, and fill your dumpster with the pallet plus all that cardboard and Styrofoam packing.
Or for about the same price...
You can buy one from us and receive a fully-assembled and tested solution, installed where it will be used, with drivers installed and operators trained. We even configure printing preferences for you to save you thousands of extra clicks.
With a focus on customer satisfaction, the people at Pinnacle Plotting have been delivering quality plotters, supplies, printing services and repair service to design professionals, print shops and contractors all over the Kansas City and heartland region since 1988.
Our staff averages more than 20 years of industry experience, so we know plotters. We are the exclusive Midwest dealer for quality wide format printers from Oce / Canon, German-built ROWE wide format scanners, plotters and folders, Hewlett Packard / HP, Epson, and Canon Imageprograf. We service everything we sell. We focus our combined industry experience in creating printing services and plotter solutions for our clients rather than "making the sale."
So, how do you find the right vendor or partner for your business? How do you find that person or company that respects your brand, connects with your employees and is driven by the same core values that are at the very foundation of your business?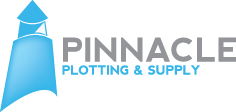 Who you do business with is important, here is a smart strategy to use when choosing a plotter vendor:
We also offer plotters on a "pay-as-you-go" basis
With NO up-front cost for equipment, supplies or service!
We still have a full-service print shop for blueprints, posters, banners, manuals, etc. Pinnacle Plotting is an authorized and qualified HP Supplies partner. Rest assured that you are purchasing genuine, original OEM supplies.
We've got everything you need right here.
People who don't know you or care how late you work just made it a lot tougher to get your job done. It's nothing personal, they just found a way to save themselves a few bucks at your expense. No, you can't just drop off a deposit check and pick up a set of blueprints to make your take-offs anymore. Today, you have to either bid jobs on a tiny screen or stand in line for plans.
Why does your blue printer act like your deadlines don't matter? How much of your day is wasted driving across town just to pick up a few sheets? Then they charge $3, $4 or more per sheet (sometimes twice that at the big chain stores).
All this time and expense just to BID a job? Get your own blueprint plotter and take back your workday (your evenings too)!
We can make it this simple: Just-Click-Print.